TOKATSU International Film Festival 2006 Overview
Official website →TOKATSU International Film Festival 2006
TOKATSU Film Festival 2005 Overview
Name of Event
TOKATSU Film Festival 2005
Date
14th October, 2005 (Opening Event), 15th/ 16th October, 2006 (General Screening)
Venue
9 places in 5 Cities
Opening Event
Morino Hall 21, 19:00 Friday 14th October
General Screening
Saturday 15th and Sunday 16th October

Abiko: "Gekkougura" Aishima Geijyutu Bunka Mura
Kashiwa: Spanish restaurant "Amor De Gawdi", Dining Bar "ROOF", Art Complex "MONAIZO", Café Line
Nagareyama: Morino Hall 21, Atelier Reimei
Noda: NodaCity Cultural Hall
Matsudo: Matsudo Sanrio Theater

Fee
2,000 yen (all round ticket)
Day tickets
Official pamphlet 1,000yen (Time schedule can be provided for free)
Hosted by
TOKATSU Film Festival Committee (Abiko cinema Club, Kashiwa Filmmaking collaborators, Nagareyama Film Works, Maji Noda, Matsudo Planning Committee and TOKATSU Cinema Club)
Co-hosted by
RO-ON
Collaborated by
Cities of Abiko, Kashiwa, Nagareyama, Matsudo and Noda (alphabetical order)
Partners
DV workshop Studio DU Panasonic, BIGBOSS SHIBAZAKI
Supported by
ACT2 inc, Alpha institute, Fuji Film Imaging inc.
Cooperated by
Koala TV, J:COM Kanto, Art Frog
Number of participants
Opening event: 600 people
Abiko: Official event 500 people / Free event 250 people
Kashiwa; ROOF 100 people, Gawdi 400 people, Monaizo 600 people, Café line 120 people
Nagareyama: 224 people
Matsudo: 1,320 people
Noda: 470 people
Total (General Screening): 3,984 people
Official website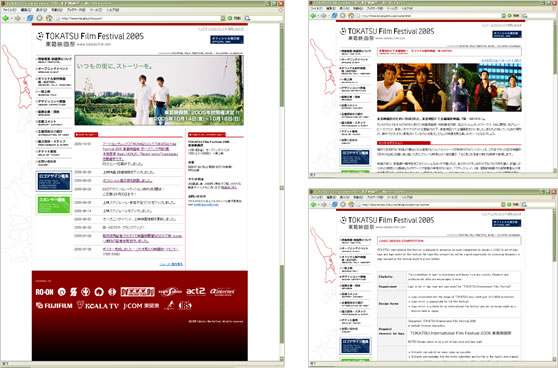 →TOKATSU Film Festival 2005 (Japanese only)
Photos of Opening event
Introduction of Sister, the festival original film (Screening, greetings and special talk session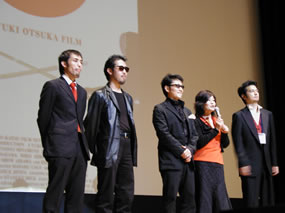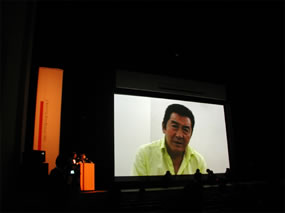 Photos of each venue
General screening of more than 40 films was held in 9 places in 5 Cities (Abiko, Kashiwa, Nagareyama, Noda and Matsudo)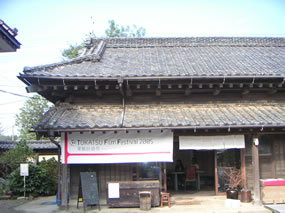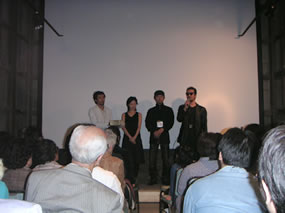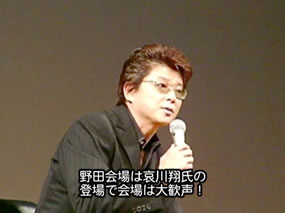 Photos of Open Cafe
Open café was set up by top chef and bartenders. This was functioned as the main gate of film festival that free shuttle buses were departed to each venue. Also several events, such as photo session and talk session, were held by film makers, guests.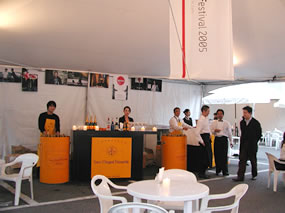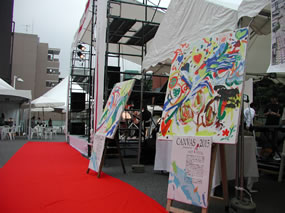 Pre-event: Travelogue Photo exhibition of Naoki Honjo
The poster of TOKATSU film Festival 2005 was shot by Naoki Honjo. Many of his unreleased works were displayed in the exhibition.
TOKATSU Film Festival 2005, Opening Special Exhibition
"Travelogue" Naoki Honjo / Recent works
Venue: Art Complex "MONAIZO", Kashiwa
Address; MONAIZO 3-3 Wakaba-cho, Kashiwa, Chiba 227-0024
Tel/Fax: 04-7139-5855 Duration: Saturday 1st Oct – Tuesday 11th Oct
Fee: Free